So as January marches forward we are now ready to look ahead and introduce the current thinking for Shetland Webcams.
Phase 1 went live today, Thursday 9th January, which allows us to launch the subtle new look as well as providing a new video player whilst giving us some time to seek user feedback.
Since Shetland Webcams was launched we have always been a loyal supporter of JW Player however the traffic we have on this site generates around 500,000 "plays" as recorded by JW Player each month and this has meant that we could no longer afford to use their player.
We have reinvested our annual JWPlayer fees into further development of Shetland Webcams.
I have always been an avid supporter of the open source community as we used a number of open source products within our streaming infrastructure. With the help of our developent team at NB Communication we decided to introduce Video.JS as our preferred player to support our live streaming services.
Introducing the player meant we needed to extend the project timeline to allow more testing and for the product to reach a level of maturity that we felt was acceptable to launch into our production platform. Now, having said that….there are still things that need dealt with but their developers are on the ball and very responsive…as are ours.
We have decided to remove support for really old browsers and operating systems so some people may have some issues at launch but we apologise in advance but our statistics show most users are using recent versions so we expect the number of users impacted to be low and I don't want this platform's creativity held back.
Phase 2 is planned for 1st February and will include the launch of our RedEye "donations-with-benefits" club.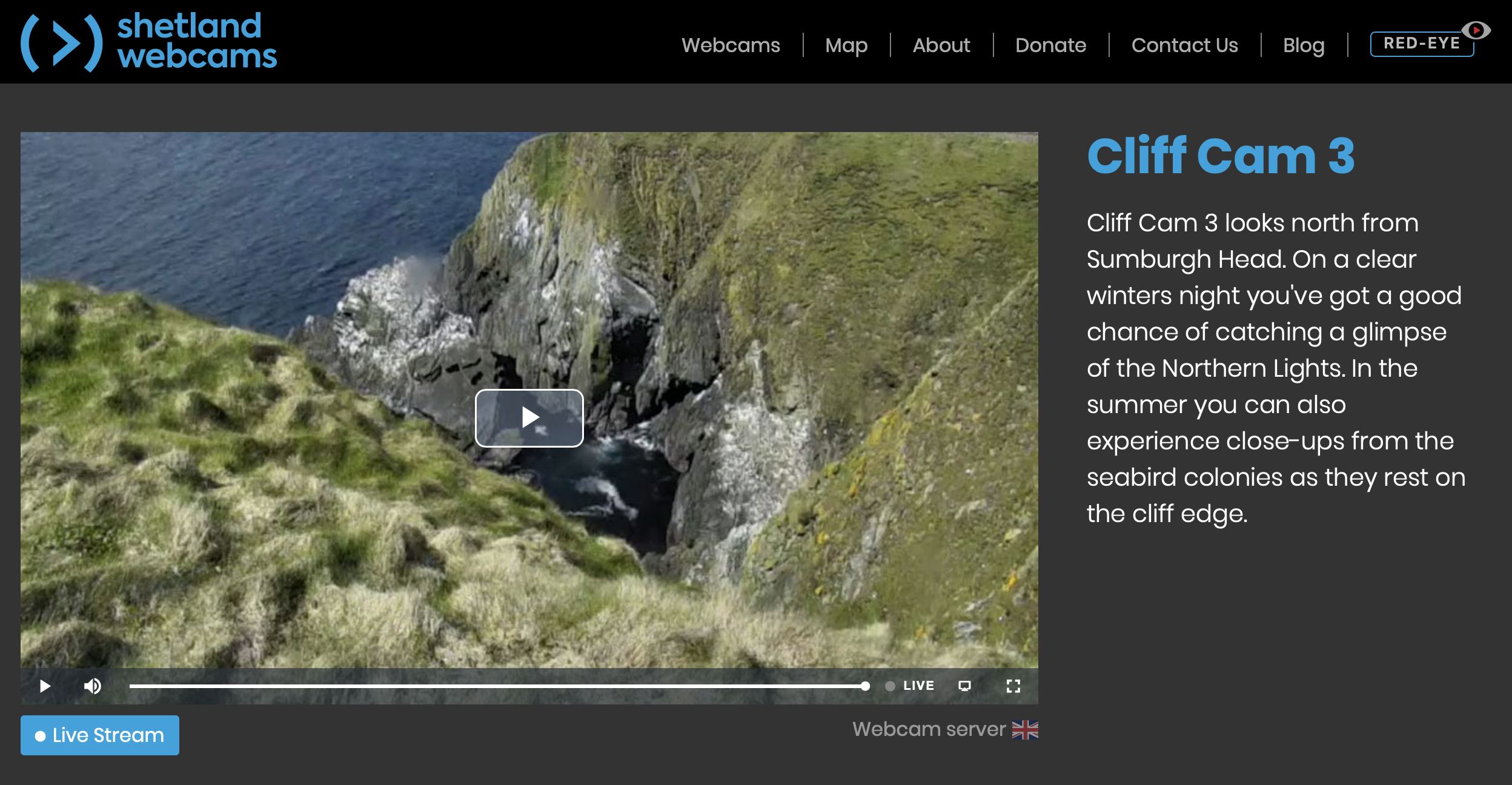 As you can see…upper right of the frame shows the RedEye button and also there is a new 'donations' link too. This is how the site will look from 1st February.
Phase 3 is expected 1st May 2020 and will include our RedEye+ tier and the launch of some brand new sponsored streams as well as private streams that will be made available to the RedEye+ members only.
More information on RedEye and RedEye+ will be available when we launch Phase 2 at the beginning of February 2020.
Thanks for your ongoing support and I hope the 2020 vision of our RedEye membership will be impressive enough to encourage you to invest in the furture development of Shetland Webcams.