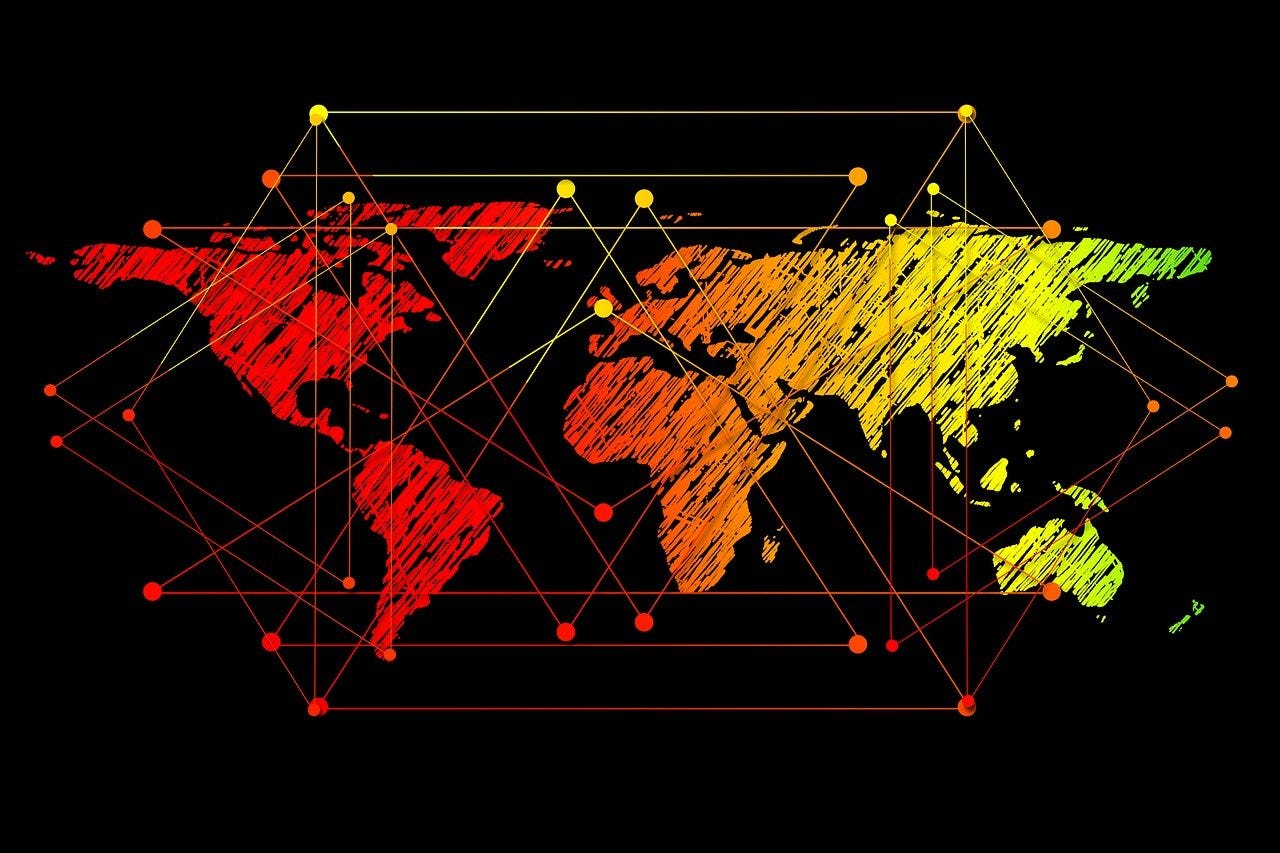 This is aimed at those who have an interest in how things work behind the scenes and although there is an element of 'tech-talk' it is written for general consumption. If anyone wants to know more of the technical detail, then drop me an email.
Towards the end of last year (2021) I decided to make some long overdue changes to the platform – more subtle than new and shiny – but nonetheless essential to allow some future proofing.
Those in the UK and Europe would probably not see much difference however those watching from the USA, Asia and Oceania should.
The current way we distributed our video streams was not as reliable as we had originally hoped for and often, without notice, the routes our streams took across the world to Australia would change. Towards the end of last summer our routes were usually from Sydney across the Pacific Ocean to the US West Coast and then across the US before heading across the Atlantic Ocean and then into our UK network.
For our viewers down under this meant a lengthy period of waiting before the stream started and then often the quality was variable. Even within Australia our network was often not well peered (connected) with consumer broadband networks, so the result was a poor experience all round. Around the same time our network supplier based in Sydney was taken over by a larger company and we saw a reduction in support and service, so it was time to go back to the drawing board.
Anyone in the business of building networks will realise just how expensive bandwidth is in Asia and in Oceania. Despite new undersea fibre optic cables the cost has remained high but the costs have started to look better in Singapore and the connections between Singapore and Australia are pretty good these days - fast and reliable as long as you go with service providers who know how to run and manage good networks.
As many of you know we also provide 12-hour and 24-hour rewind streams and those were always streamed from our UK datacentres. If you wanted to do anything with these streams you really needed to be in the UK. I had many justified complaints over the last 2 years about this, so it has been on the To Do list for a while.
Our new core network with effect 1st February 2022 consists of edge servers in Chicago, London, Copenhagen, Singapore and Melbourne. We now operate our core at 10gbps (something I never expected to do streaming webcams) but in Melbourne it remains at 1gbps however due to the high cost of bandwidth.
All our streams are now distributed directly from our UK datacentres to all our Edge Servers which means not only a better-quality streaming experience but for the first time since I started Shetland Webcams, I am now able to deliver the DVR streams directly from the remote locations. Having been working out of Singapore for the last few months this has been a major and obvious improvement and I find myself using these rewind streams more often than before. Now the 12H streams are running locally but the 24H streams will be rolled out during March as these are still currently being delivered from our UK server.
It is currently our intention to move all our streams onto the new network, but our initial focus was to prioritise the Sponsored views.
As you'd expect this comes with additional cost however support from our RedEye members, sponsors and advertising income have allowed the investment in the platform to continue. The benefit of these enhancements is noticeable behind the scenes when there is auroral activity as we have never run out of resources when live-streaming the Northern Lights and we can cope better with people rewinding the streams to watch what they may have missed.
We might be one month in as far as 2022 is concerned but we are already looking forward to 2023 when we expect to see fire – lots of fire – and lots of lovely Tall Ships and probably a few Cruise Ships too.
And I am going to bury this challenge deep in this post…
If we can achieve 100 new RedEye members in 2022 then we will install one of our latest HD cameras in Foula, Fair Isle or Skerries in 2023 – the decision will be made on the location by a poll of only these new members so why not throw caution to the wind and help get something new and bold online from a remote island community.
If you like what we do then support us by becoming a RedEye member and challenge our technical abilities with something exciting as we look all look forward.
Thank you all so much for keeping the show on the road during a challenging time for so many people.